Sunday, 1 May 2022, 6:30-7:30 p.m. will be a Korea Nationwide Fireside for all members of the Church of Jesus Christ of Latter-day Saints throughout Korea and their friends hosted by the Seoul South Stake.  Members and friends are invited to attend in person at the Gangnam building at 10, Beobwon-ro Seocho-gu Seoul, Korea, or to join online through YouTube live streaming.  Due to copyrighted music, the fireside will not be recorded and made available later.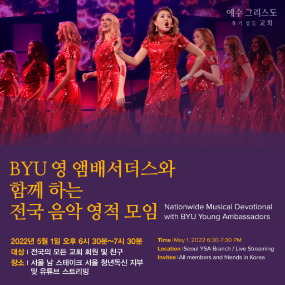 The fireside will feature the Brigham Young University Young Ambassadors who will share their testimonies of the Gospel through music and the spoken word.  The Young Ambassador team consists of 28 university students - 14 young adult men and 14 young adult women.  Throughout the school year, the Young Ambassadors offer local and regional performances, workshops with middle school and high school students, service projects and outreach performances and firesides.  The team is accompanied by director Shane Wright, artistic director Nathan Balsar, and technical director Troy Streeter. 
Please join for a spiritual uplift, as they testify of Jesus Christ, through music and messages of faith and hope.   Translation will be available.